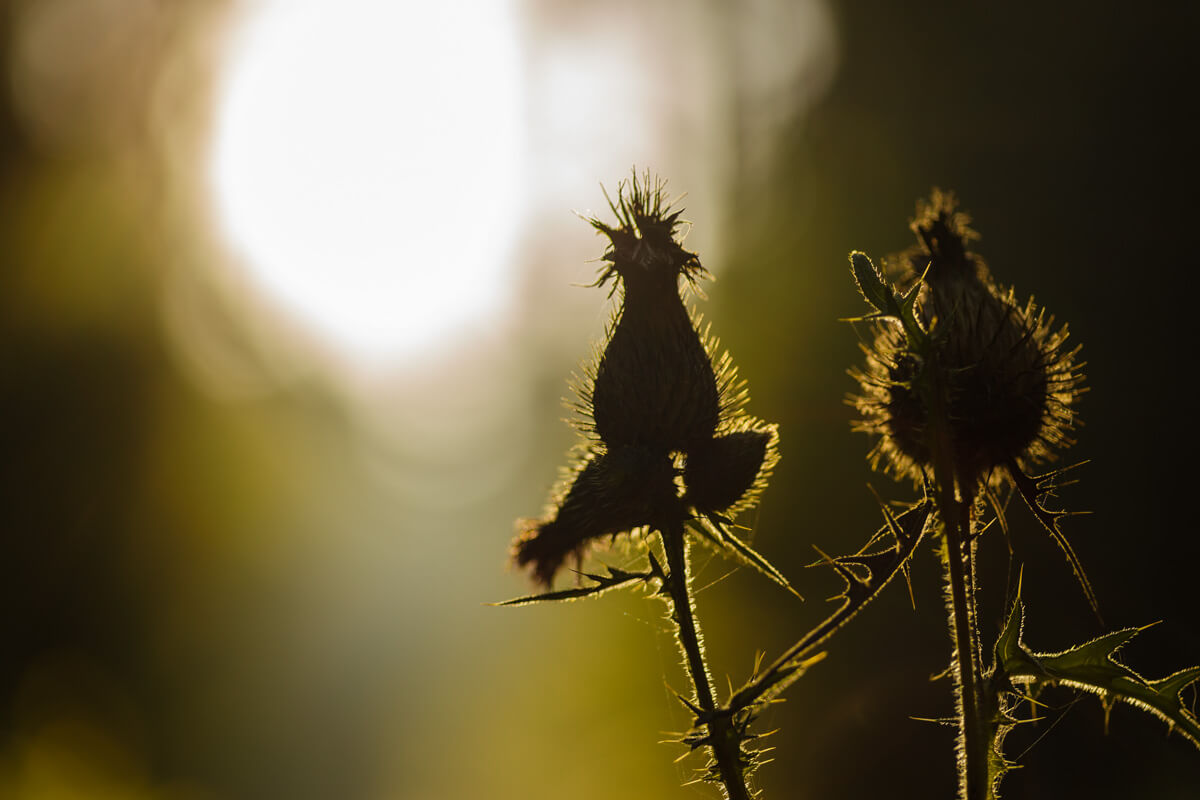 Summer is the least interesting season for most landscape photographers. And I also find the months of July and August the least photogenic. It gets light early, dark late and in addition nature is somehow in an intermediate state. The spring flowers have faded, the fresh green is meanwhile richer and darker, but the autumn colors are still waiting. In addition, the heat makes me rather sluggish. You've probably noticed, these are all excuses why you should sleep in on the weekend instead of doing the only right thing: dedicating yourself to forest photography in summer.
So no more excuses. The weather was good, no storm, rain or thunderstorm was announced. And my inner clock likes to throw me out of bed at 5 a.m. even on weekends anyway. And so some beautiful photos were taken on this sunny morning, which I want to show you today.
---
Your trust is extremely important to me: This article contains referral links (Affiliate-Links). If you book a hotel or buy a product through one of the links, I will receive a small commission. You will not incur any additional costs and you support this blog. Thank you very much! Your Tanja

---
Forest photography in summer - a special challenge
Forest photography in summer has always been a challenge for me. It has always been difficult for me to find beautiful motifs. The leaves of the trees are no longer as fresh as in spring, the light is also only really nice early in the morning and late in the evening. Spring flowers bloom almost only in spring, mushrooms, on the other hand, are still rather rare.
But if you open your Aigen, then you can find even directly on the roadside many beautiful motifs. So forest photography in summer doesn't have to be automatically boring. All you need is an alarm clock and motivation to get up a little earlier.
Forest photography in summer - pictures are everywhere
A few flowers still bloom along the way. Like for example these bellflowers. I tried different exposures. Very bright and very dark. But I like this slight moody look with this motif better than the bright images. And what do you think?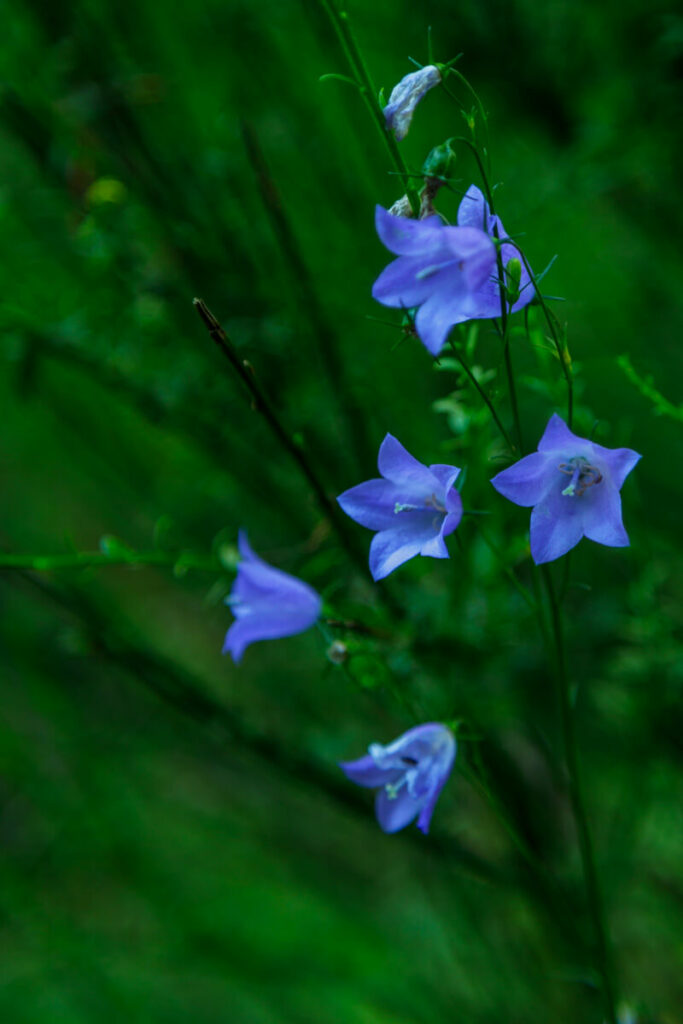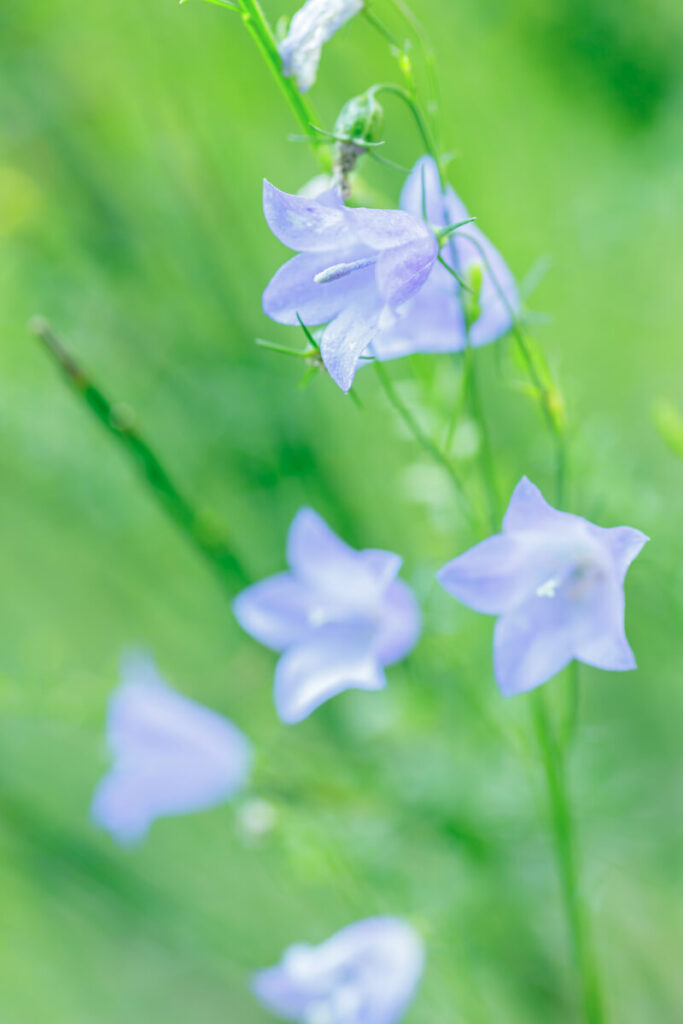 The sun was at the right angle at the right time. Some golden rays of sunlight fell through the leaves. It's fascinating to see how quickly the light changes. And what a slight change in position of the camera can do. There are only 20 minutes between the following pictures. And only a few meters I walked further up the path. But what was even more exciting were the individual spots that were illuminated by the light and almost glowed golden.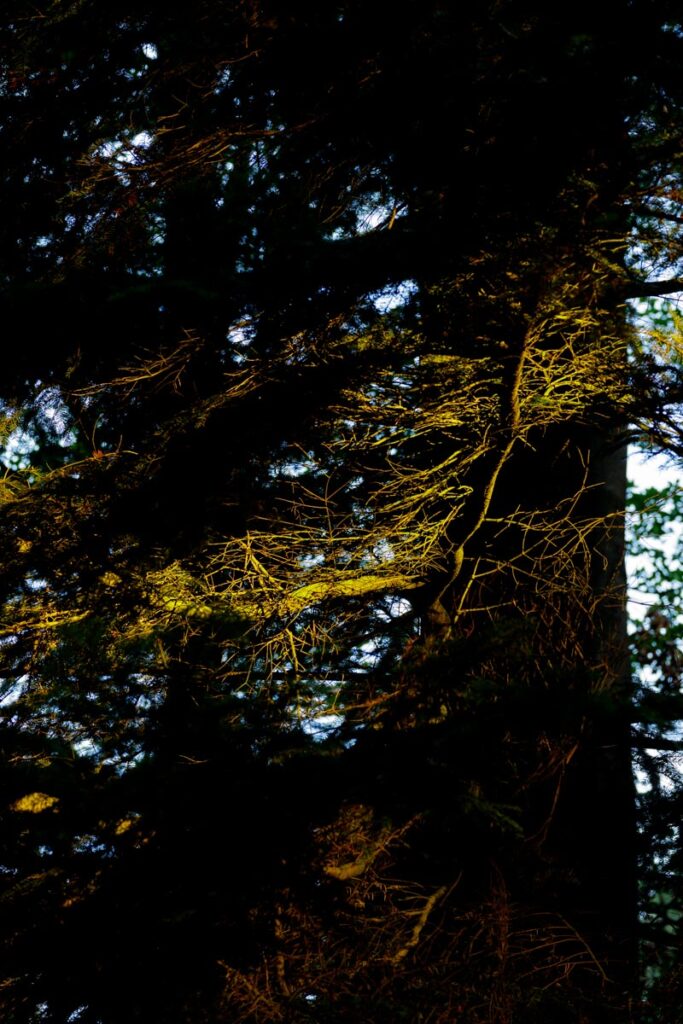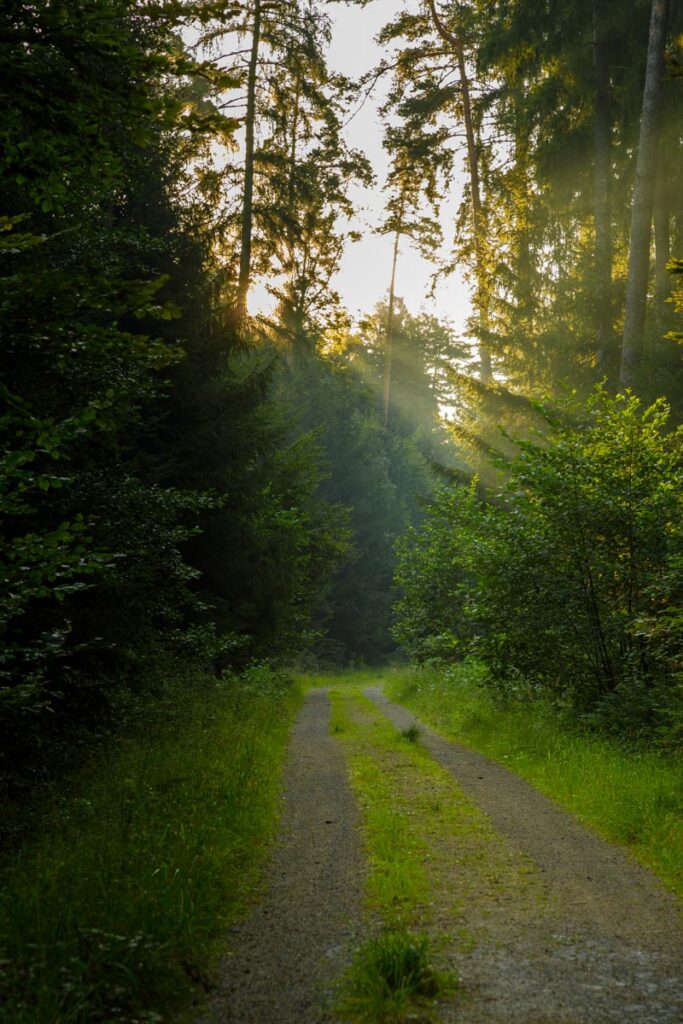 A few weeks ago, I managed to take a photo in which a forget-me-not was only recognizable as an outline. I had hoped to be able to create a similar photo with a different motif. Unfortunately, I didn't succeed, but I still managed to take some really nice backlit pictures.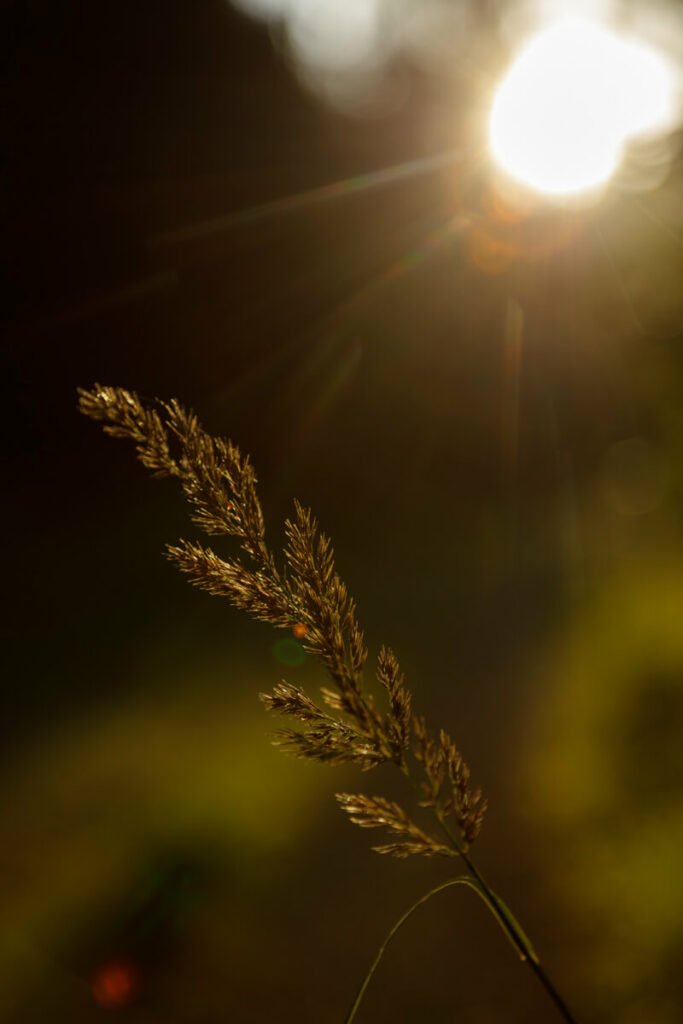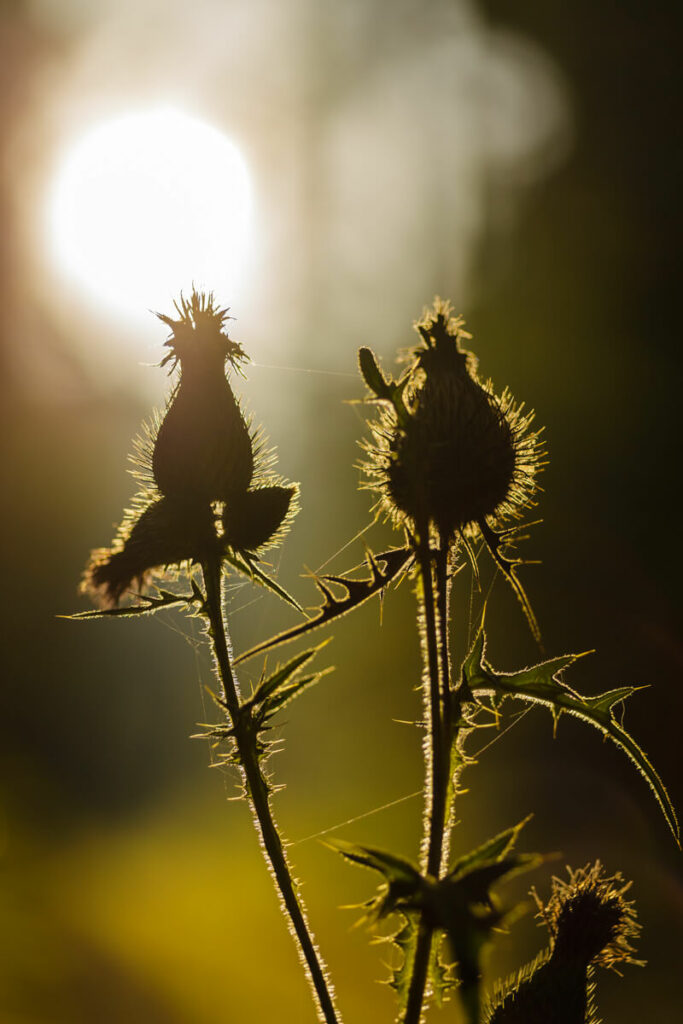 A little breakfast I also found! Wonderfully sweet raspberries that grew right on the edge of the path. The raspberries were just as sweet as they look in the picture! Unfortunately, the bush was very small and only four or five raspberries were growing. But who could have resisted this sight?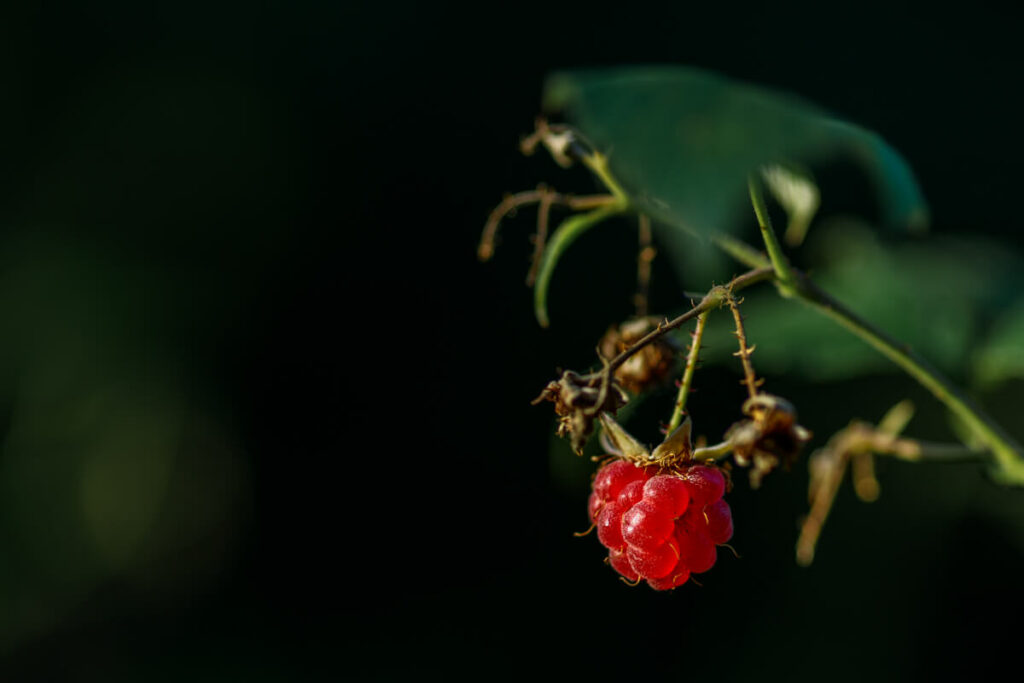 Forest photography in summer - change your perspective
In the meantime, the sun was already a little higher. But even then, exciting photos can still be taken. A view upwards opens up completely new perspectives. And that's what photography is all about, perspective. With my wide-angle lens, the view from below into the treetops looks much more impressive than with a standard lens.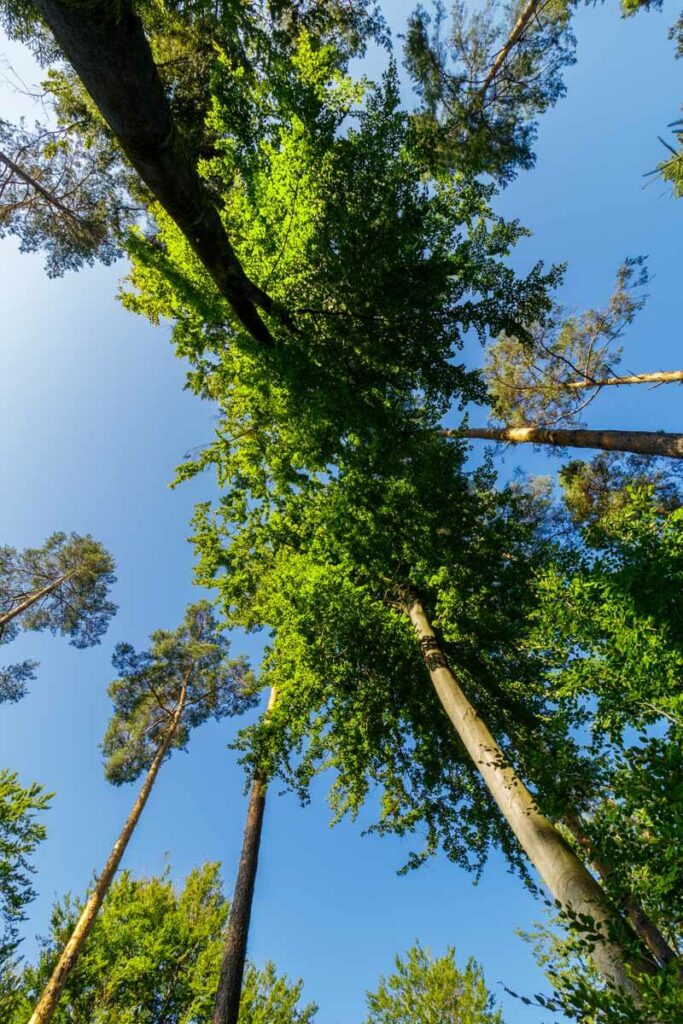 Details, on the other hand, can be shown better with my 24-105mm lens or even a telephoto lens. For this it is always worthwhile to take a look at the trees. Because sometimes the tree as a whole is not the most interesting subject, but its branches or bark. In this case, it seemed as if two dark branches framed the two lighter ones.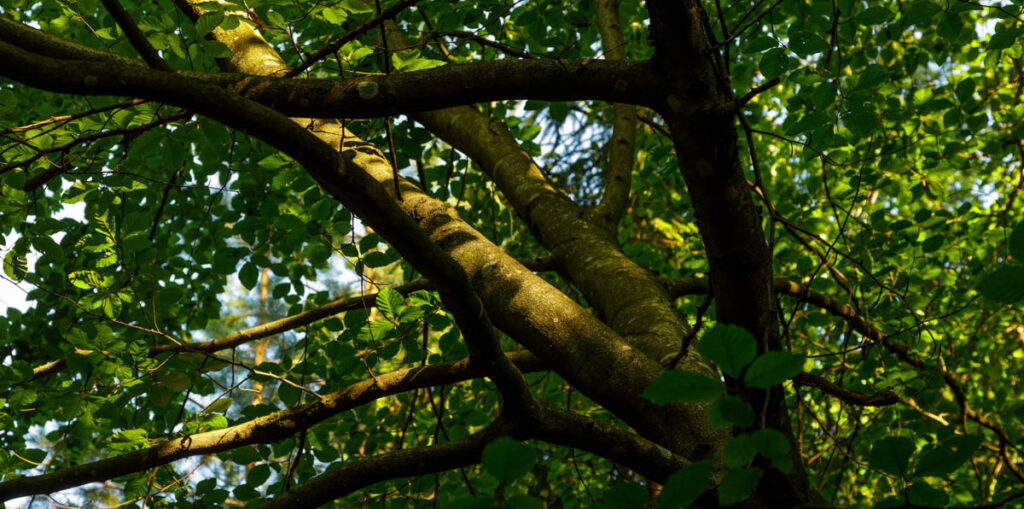 But at some point it was time for the way back. Especially because I know myself and know that I stop at every interesting motif. And indeed there was still the one or other opportunity to stop. Especially this leafless tree caught my eye. Illuminated by the warm sunlight it stood there. And after a short time another ray of light fell on the tree standing further back. So it seemed as if the two tree trunks were shining, while around them the leaves were still in the shade.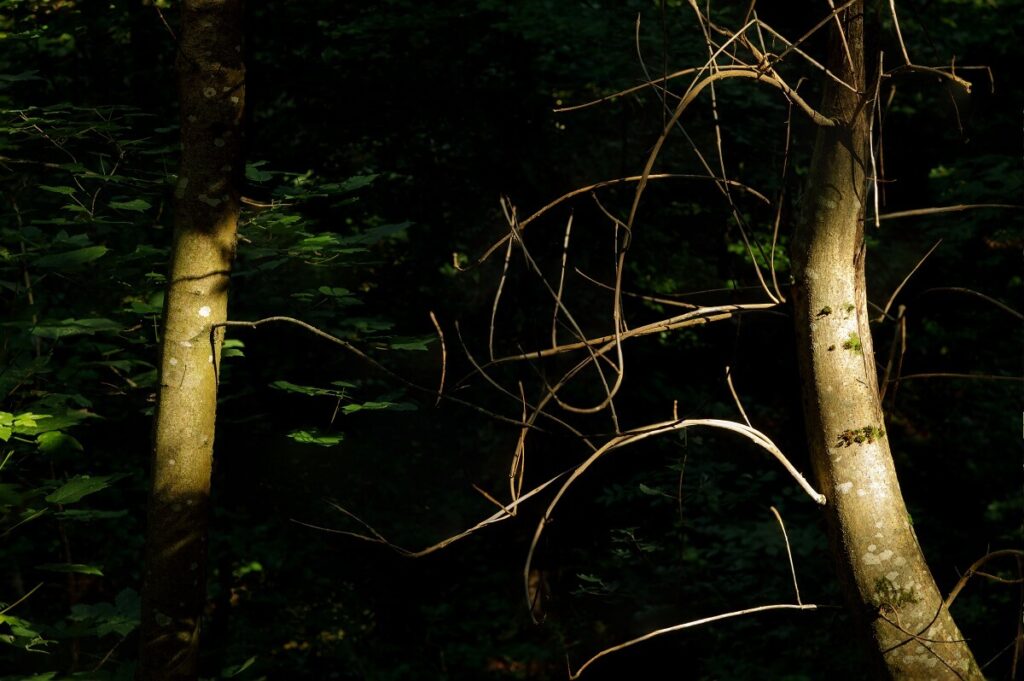 Tipps for better woodland photos in summer
If you want to shoot dramatic photos even in summer, you need to be in the forest appropriately early. In the last few months, I've often been in the woods at sunrise. That is really early. In our area, however, the forests are very mountainous, so the light is at its best 1-3 hours after sunrise. Find out for your forest when the light is best and set your alarm accordingly early (or late) next time.
Turn around more often! The light changes within seconds. A subject that was in shadow a moment ago may now be illuminated by the sun, and vice versa.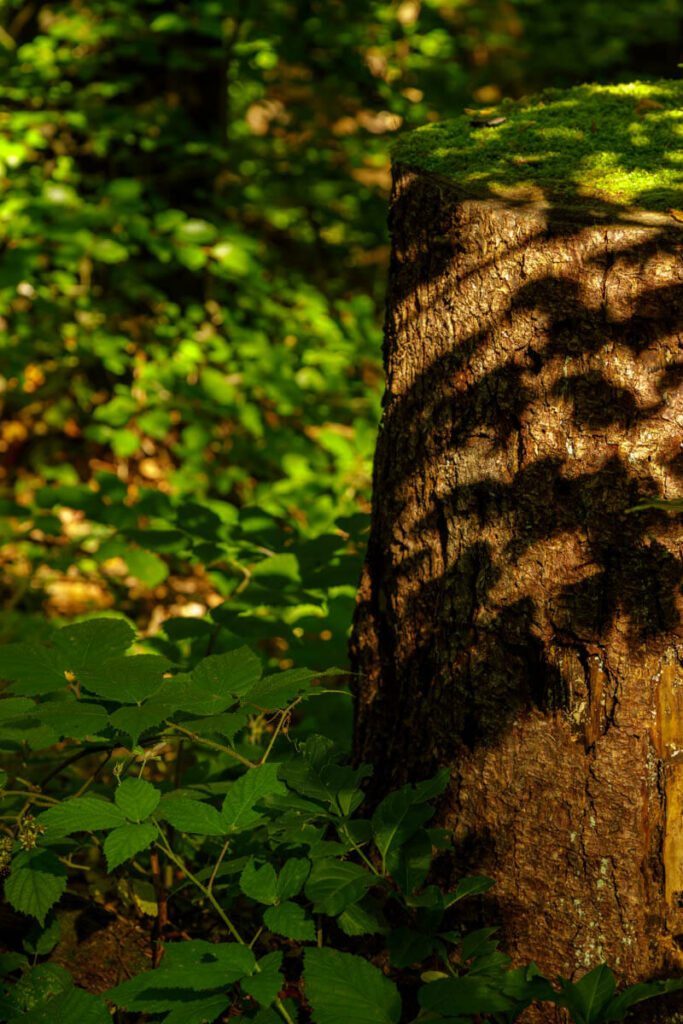 And if all else fails, take the opportunity to explore new forests. Find places you want to revisit in the rain or in the fall or winter and rehearse your composition. On the computer, see if your idea really works or if you've overlooked any distracting branches or trees.
Want more tips about forest photography? Then sign up directly for the newsletter. You will automatically be entered into the next competition and will receive an email from time to time with photo tips that are not available on my blog.
From September 2021 you can also learn more about forest photography in workshops in very small groups. If you don't have any experience yet, but want to try photography or learn the basics of photography, I also have the right workshops for you. If you have any questions, just send me a message!
Best light wishes
Your Tanja